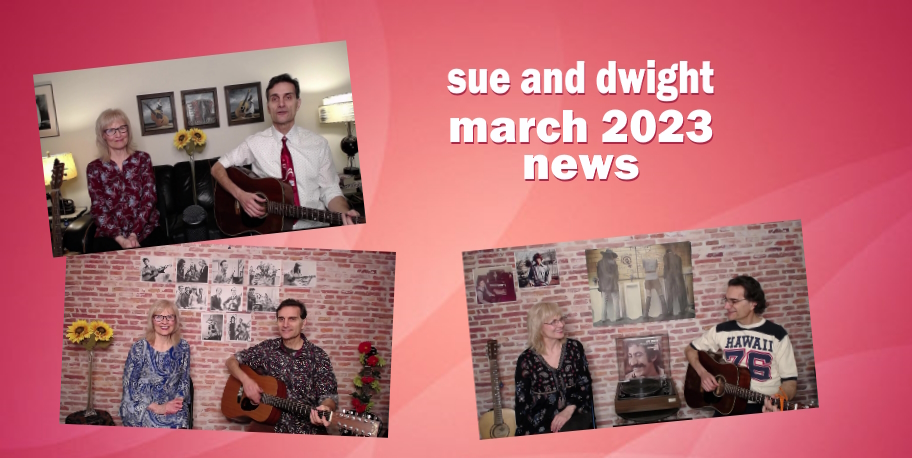 Hello
It's March, which means Spring is just around the corner! Our groundhog here in Ontario, Wiarton Willie, was apparently the ONLY prognosticating rodent in North America to predict an early Spring. He wasn't specific about the actual date, though. I figure he is either quite certain or because he's new at his job, does not understand the concept of under promise and over deliver. Regardless, I'm putting my faith in his bold prediction!

We have some BREAKING NEWS!...
The Where Have All The Folk Songs Gone? gang (Sue, Dwight, Tony, and Henry) is reuniting for a live in-person show on Saturday, April 22nd at the Stained Glass Centre For The Performing Arts in Stouffville! We will be posting the details very soon in the Shows section of our website.

We have a busy March ahead Online! (Direct Links to the Shows can be found here: UPCOMING SHOWS)  All shows begin at 7pm Eastern Time.

Join us every Wed. for Livingroom Live.This week (Tonight!) our Theme is 'March Mix-Tape'. Remember how we used to compile and share cassettes of favourite songs for friends? 
Next week we'll be celebrating International Women's Day. The following week St. Pat's Day, followed by the First Day of Spring. And on the final Wed. of March, we will shine the Spotlight on the music of Joan Baez.

This Sat. (Mar. 4th) is our Super 70's Songs show. We can't seem to stop ourselves from adding more old songs to the list so we'll be debuting some fresh ones this week!

Our 60's Folk Singalong is on Fri. Mar. 17th. There's still time to get some requests in if there is a special song you'd like to hear. Here's a link to the tab where you can choose songs from our
60's SONG CATALOGUE.
 
We invite you to visit our MUSIC / STORE to check out our Music, Book, or Zine! Thank you as always for your ongoing support of our music.

Sue and Dwight