Maybe not technically, because according to the calendar it doesn't officially end until September 22nd, but I think most of us feel the Labour Day weekend signals the end of Summer. It's been a good one...a really warm one here in southern Ontario...and we took a little more time off than usual to enjoy it. But we also played some fun shows during that time as well.
In July we headed up to the beautiful Kawartha region for some shows in the area. It started with a lovely afternoon show at a long term care residence in Peterborough on Friday. They were such an enthusiastic bunch. Even some who were unexpectedly so. I watched in amazement as one woman, who I'd noted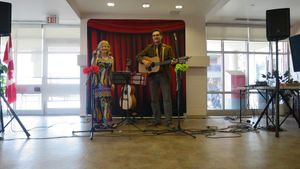 while mingling and passing out show programs appeared totally unresponsive to her surroundings, began singing along during the show, even smiling and clapping. Another gentleman who seemed quiet during the show heartily thanked us afterwards "for keeping this music that means so much to us, alive."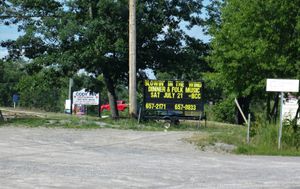 The next show, the weekend's main event, was a dinner and music fundraiser for Peterborough/Buckhorn Community Care. The organizers did a great job promoting the sold-out event and came up with the 'Blowin' In The Wind' title for it. I figured it would be a good folk night when I noticed a Pete Seeger doppelganger in one of the tables up front!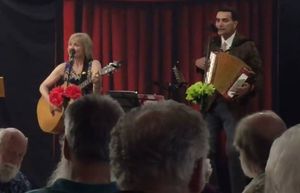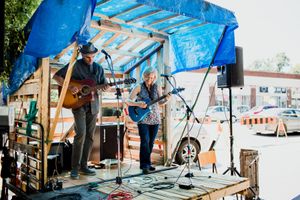 Next up was a trip to Winnipeg and while there, we performed at a street party sponsored by The Strong Badger Coffeehouse. It was a beautiful day filled with music, food, artisans, and community spirit.
Back in Toronto for August, in addition to one of our own scheduled performances, we were happy to fill in for a last minute cancellation one afternoon for the Music In The Park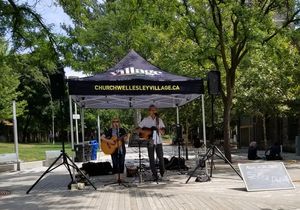 Series at Barbara Hall Park. It's great to perform outside in the Summer!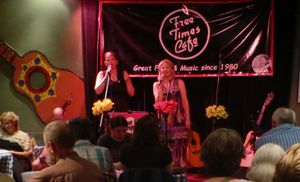 We had a packed house for the August 'Where Have All The Folk Songs Gone' show, where we introduced a couple of new songs. You can read all about that evening here: Hot August Night!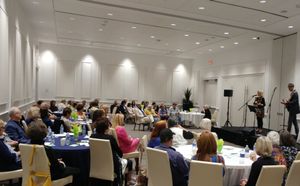 And finally on the last day of August, we travelled way up north (i.e. past Bloor!) and had a great time singing songs of Leonard Cohen and Bob Dylan with an enthusiastic audience at the Schwartz Reisman Centre.
We have some cool shows coming up in September. Check out the details here: Upcoming Shows