We've been having a great Summer so far and we're only halfway through it!
With two showers, lots of water, and popsicles from a sweet family in St. James Park who insisted they had extras that would melt and go to waste if we didn't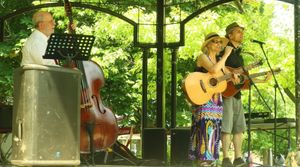 take them, we celebrated a hot and sweaty (+34C and muggy) Canada Day with two shows. The first was the annual St. Lawrence Neighbourhood Canada Day party. We always make sure to include the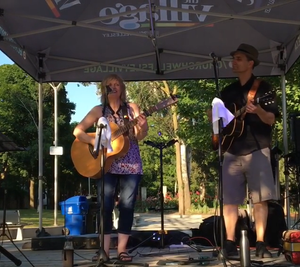 song 'This Land' by The Travellers to continue the tradition of our friend and founding member of the group, Sid Dolgay, who invited us to sing it with him at this celebration for years before he passed away in 2015.  The second show of the day was at Barbara Hall Park where we were invited to kick off the Church and Wellesley BIA Music In The Park Series. It was a wonderful day and the fact that the performances were both outdoors made it extra special. After all, that's what Summer is all about! Here's a link to a short Instagram Video from the day: Sue and Dwight at Barbara Hall Park
The 'Where Have All The Folk Songs Gone?' gang had a fun road trip out to Niagara On The Lake on July 8th,  to kick off Music Niagara's 'Sunday In The Park' Music Series. We performed in the bandshell at Simcoe Park to a few hundred people who came out to enjoy the weather-perfect day.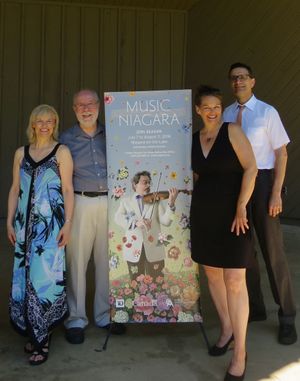 Last night we had a great gang of singalongers out to our regular monthly Folk Revival show at the Free Times Café.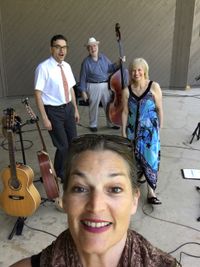 Check out the 'Where Have All The Folk Songs Gone?' blogspot for more info about this group.

Big 'Sue and Dwight' road trip coming up this weekend to Buckhorn. Here's the cool poster the organizers designed and a link to the website for tickets and more info: http://www.commcareptbo.org/2018/06/18/Blowin-in-the-Wind-July-21st-Buckhorn-Community-Centre If you're in the area, hope you can join us.