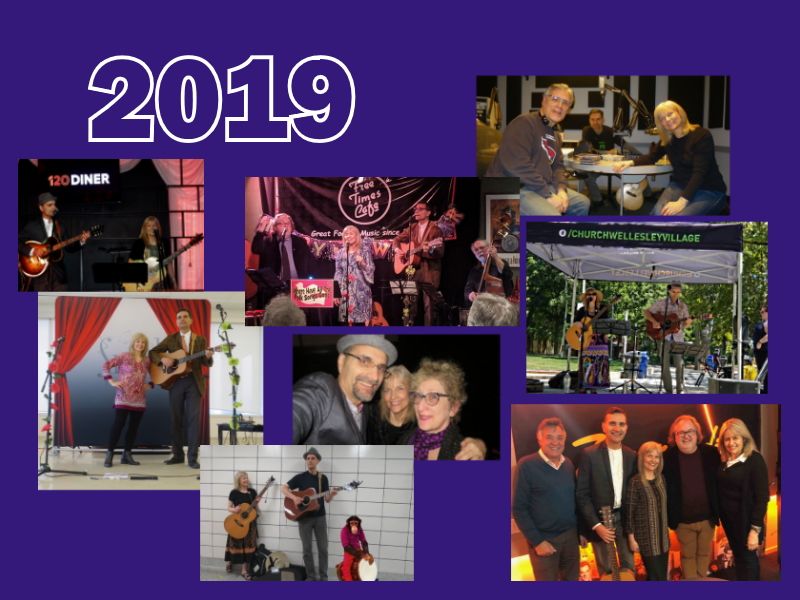 Well 2019 is one for the record books as the saying goes and it sure was an enjoyable year of music for all things Sue and Dwight. We wish we could say it was one politically as well but improbable events in the UK and US continue to dumbfound us all, not to mention make the world a bit more unsafe. Hopefully our music helped keep you calm and hopeful! 
Here are some highlights…  

Sue and Dwight
(Stories about many of these events can be found in the News section of this website) 
Winterfolk 2019 with two Sue and Dwight shows and the first ever Accordion Summit workshop with Hotcha and Tragedy Ann...3 accordions on stage at the same time!
120 Diner - Sue and Dwight Monthly Series with some great musical guests (Wendell Ferguson, Kevin Quain, Shelly Coopersmith, Henry Lees, and Tony Laviola).
A Summer Fave! Several performances at Barbara Hall Park - Church and Wellesley BIA Music In The Park Series.
SRO only Legendary Ladies Of Folk Tribute Show at the Myles Nadal Community Centre featuring the songs of Joan Baez, Joni Mitchell and Buffy Sainte-Marie. 
Canada Day Double Header! Performances in St James Park at the annual St. Lawrence Community party and then hustling up the 400 for a late afternoon show at Utopia Hall.
Going upcountry with Shelley Coopersmith to perform the show Hallelujah - The Songs of Leonard Cohen & Bob Dylan at the Community Care Fundraiser in Buckhorn.
Performing for senior's residences, long term care residences, and organizations in the GTA.
Bittersweet finale #1...our 10th year at the Davenhill Senior's Residence for 5 shows before it closed in the Fall.
Recorded and released 'A Good Life', Sue's tribute to a great man and friend, Lew Preston. 
Continued busking in the TTC Subway Musicians Program.
60's FOLK REVIVAL - Where Have All the Folk Songs Gone? 
(Check our Folk Songs Live Blogspot for stories about many of these events) 
200 singing fans can't be wrong. Our first ever Folk Hootenanny in April was an amazing success! Featuring Klaas Vangraft and Beverlie Robertson of the iconic Canadian folk trio The Chanteclairs, The Greatest Hits of Peter, Paul And Mary tribute, and Where Have All the Folk Songs Gone at the Eton House. 
Guests on CFMU's Freewheelin' Folk Radio Show with Jim Marino. Talking all things folk at an essential radio station. 
Bittersweet finale #2...We continued our great run at Hamilton's Artword Artbar until it sadly closed late in the year. A HUGE thanks to Judith and Ron for many years of support for the arts. 
May became Retired Teachers of Ontario month and we played shows at Chapters across the GTA to over 600 former educators  
It was a honour to perform at the 100th Anniversary of the Women's College Hospital Alumni.
We were very pleased to perform for the Syme 55+ Centre's 35th Anniversary celebration.
Another great year (our 7th!) of monthly singalongs at the Free Times Cafe plus our 4th NYE's show. After 61/2 years fun years of performing together, Michelle Rumball decided to leave the group in May to focus on her solo career, and in December we welcomed Henry Lees to the band.
2 visits to Zoomer Radio's  Afternoon Express with Norm Edward and Eva D to talk the Hootenanny and then NYE.
12 SMILE Theatre Cabaret Program  shows across SW Ontario.
There it is, except for one more very important highlight… 
All the wonderful music lovers who came out to all these shows. Our tally of attendees tells us they numbered in the thousands (over 4500 actually)! Thank you to all of them.