For some Toronto based musicians, gigs north of Bloor St. can seem like a major jaunt. So just imagine the anticipation of traveling even further north for a full weekend of northern musical exposure. 
Our first stop was the appropriately named hamlet of Utopia. The hamlet and it's namesake hall pop out of the scenic fields along 6th Line just 15 minutes west of Barrie. Utopia Hall was built as a community centre back in 1956 and is now privately owned and run by a determined group of volunteers. A pillar of their program is the annual eight show Concert Series, which includes a delicious home cooked meal. 
We were so pleased to be a part of series and were warmly greeted by the volunteers when we arrived to set up. It was a good sign to learn that organizer Susan Antler was off buying more food as tickets sales grew to near capacity! 
Our set was a journey through our music catalogue touching down in Africa with 'Chinteche', 'When The Rains Don't Come', and 'Little Child Big World', the prairies with 'Prairie Girl' and 'Uncle Joe', and onto current issues with 'Marching' (by request from an audience member) and 'When They Came For The Others'. In addition to covering some of our favourite songwriters like Phil Ochs ('In The Heat of the Summer') and Leonard Cohen ('So Long Marianne', 'Hallelujah'), we also played a Folk Revival mini set with the assistance of the hall's chef and bassist Steve Lang. The audience was enthusiastic and sang along all night. As we drove off on the dark starlit road, we knew it was a night that we'll remember for a long time. Thanks to Bryan Kennedy for snapping this photo...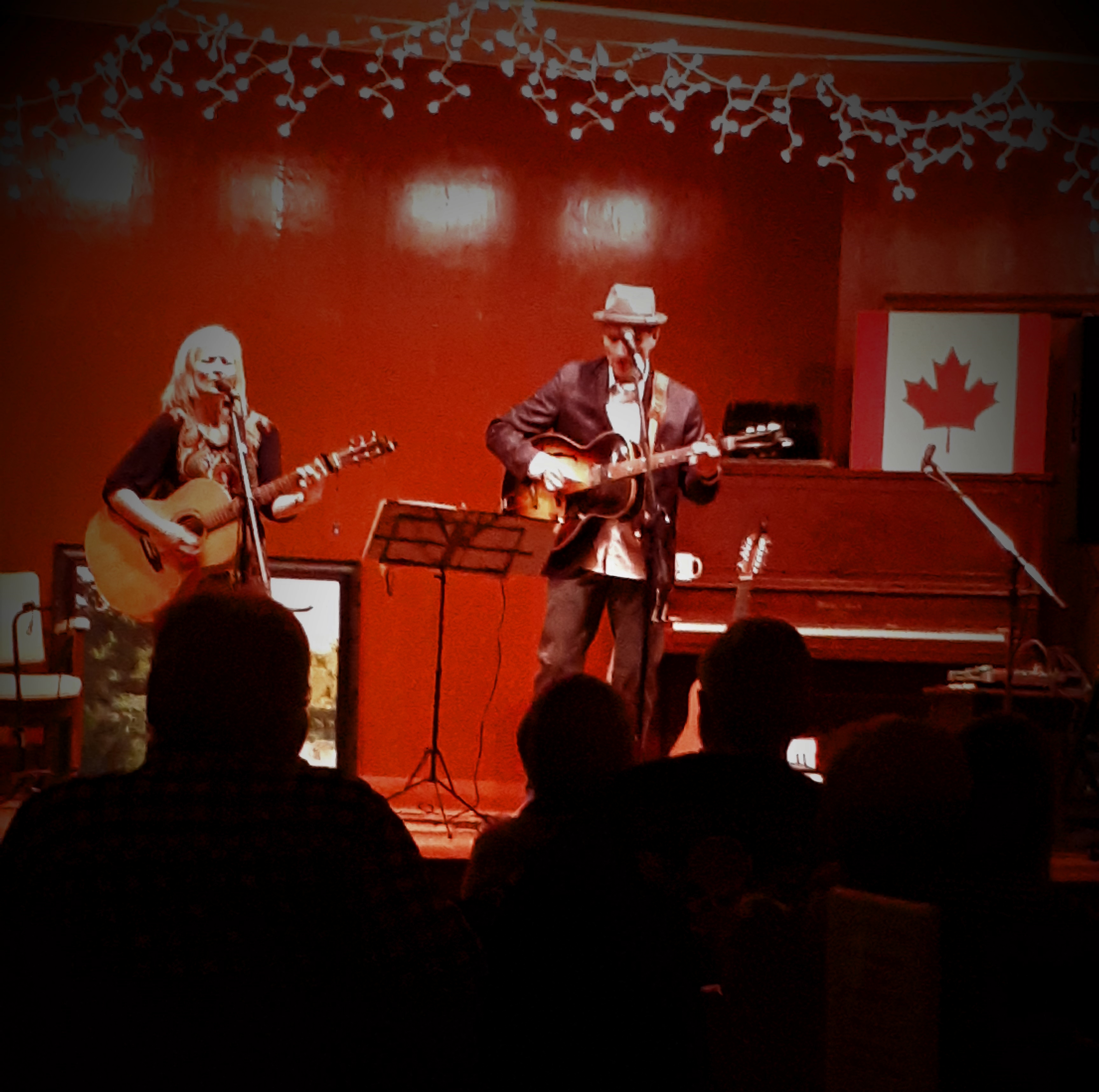 Next stop was Port Carling and the Company of Good Cheer Coffeehouse, a series run by Beverlie and 'Po Cholly' Robertson, who started the series a decade ago to bring music and arts to the area. 
Beverlie was a member of the seminal 1960's folk trio, the Chanteclairs. Along with her delta blues playing husband Charlie, the couple have nurtured a vibrant musical scene amongst all the local natural beauty.  
Muskoka Place Gallery is an intimate venue nestled amongst the pine trees and it filled up quickly. The audience was warm and welcoming and gave a nice vocal lift to originals 'Tommy Douglas', 'A Good Morning ', and 'One Song' which we love doing as a couplet with Pete Seeger's 'If I Had A Hammer.' Sue's 'For A Moment' was a fitting finale to a wonderful show and musical weekend. Thanks Beverlie, for these photos...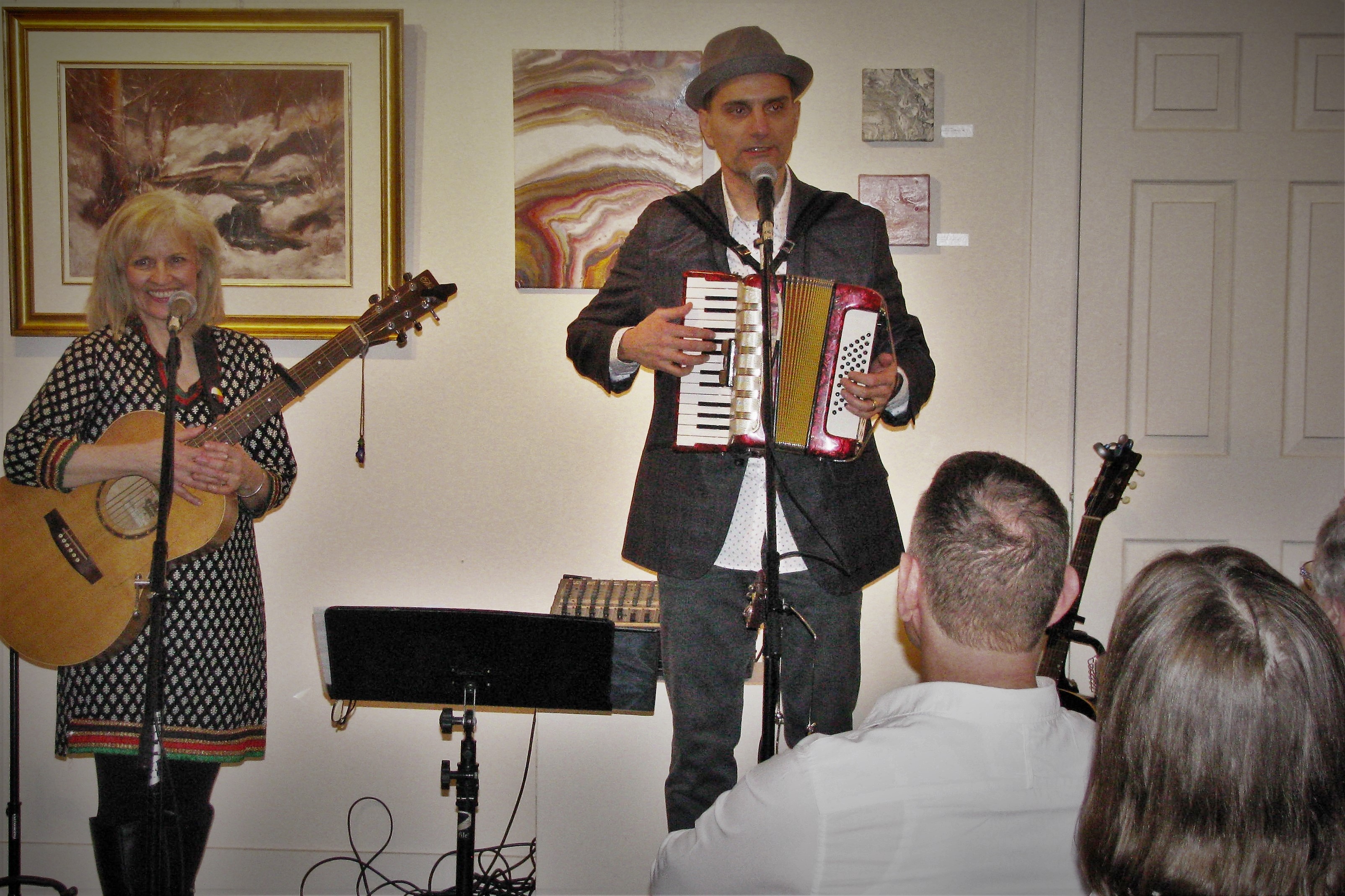 Even after the show, the music continued. Staying with our hosts Beverlie and Charlie, we had the thrill of playing songs and swapping stories around their kitchen table until the wee hours. Now that's folk music! 
Driving back to Toronto (and south of Bloor!), we had plenty of time to reflect on the shows and on how live music is certainly alive, well, and prospering in so many wonderful places.