- Posted by Dwight
What do you do when you have a Title but no song? That's the journey of After All of This Time.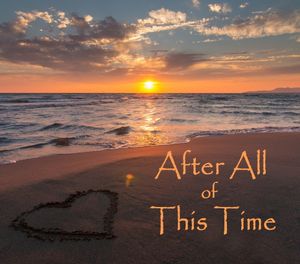 I came up with the title for the song while jotting down songs ideas at the library, the proverbial blue skying in a nice quiet place. I wanted it to be a love song but I had no idea what the story should be. One thought was that it would be a requiem to a long relationship. After some serious noodling on the piano, the first two melody lines of the chorus with the Title emerged. But there was still a lot of song to go! Being a Beach Boys fan, I could see it becoming something that Carl Wilson might have sung in their post 'Smile' era. I was stuck for awhile. 
Sometimes circumstances take over and that was the case with this song. I was catching up with a high school friend at a party back in Winnipeg, and he mentioned that he and his high school sweetheart had gotten back together after a separation of about 40 years. After All of This Time had its story!  
Borrowing an idea from Carl Wilson's 'Trader', I wrote the verses with nautical metaphors. I thought these helped create the distance and unpredictability of time and events in the story. 
Once I had the song complete, I had to figure out an appropriate arrangement. Big production with layered vocals, minimalist and haunting, or something else all together? I went back and forth between the first two before settling on the minimalist. Oddly what tipped the balance was hearing a version of 'She Believes in Love Again' by Bruce Johnston (another Beach Boy!). I used it as my reference track and just couldn't make the style work on After All of This Time. 
That led me to the 'minimalist and haunting' and gave me a chance to build in a Kalimba quartet to give the production some depth. Still it wasn't easy. I tinkered with the final mix for about four months! 
The song was probably written over two years and had several different approaches before I got to an arrangement I thought met the vision I had. After of that time, please have a listen to After All of This Time.