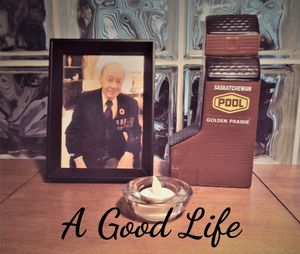 - Posted by Sue
Over the past decade we became good friends with a gentleman who regularly attended our music shows. When we met, he was in his mid-80's going on 39, incredibly fit thanks to daily work-outs, and his positive outlook on life was infectious.
He rarely spent evenings at home, preferring to be out watching live music while enjoying a pint or two. This routine continued until his 96th year when a slow growing cancer caught up to him and he became housebound. Nonetheless, his optimism continued, and he adjusted as best he could, until his pain became intolerable. With no hope for improvement and unwilling to exist in a morphine fog, he decided to pursue a doctor assisted death.
Medical Assistance In Dying (MAID) had just become legal in Canada a year earlier. We didn't know much about it, so when he asked us to help with arrangements, we weren't sure where to start. And frankly not even sure how we felt about the decision. His palliative care doctor referred us to information online, and addressed all our questions and concerns. In the spirit of someone who enjoyed life so much, we wanted to help make his passing as positive an experience as possible for him. So, we put our heads together and planned a morning singalong with dear friends and family present on the day of.
It was a beautiful sunny autumn day. We arrived early to find him dressed and receiving a shave from his caregiver. The shirt he'd chosen to wear was a wild patterned one we'd picked up for him a few weeks earlier after he lamented that his wardrobe was "boring". The shirt coincidentally matched a mural at a nearby shopping mall, and he asked us to push him over there in his wheelchair and "take a photo in front of it for posterity". Afterwards, we took the long way home so he could enjoy the outdoors. By the time we returned, the rest of the invited guests had arrived. We all sang together for about an hour in his livingroom. The mood was light as we all tried our best to conceal our sadness knowing this would be the last time we spent with him.
The doctors arrived around noon to carry out the procedure. A final assessment was done, to ensure that our friend was still of sound mind and still wanted to go ahead with it. He emphatically assured them he did. When asked if he had anything he'd like to say to us all, he thought for a moment waved his hand and said 'God bless you all', which made us all smile because he was not a religious man. He was then escorted to his bed where the doctors prepared him for the last stage of the process and shortly after, we were all invited in.
Just before administering the drugs, the doctor asked our friend if he would like music in the room, to which he responded "YES!" Dwight went to the livingroom and grabbed his guitar. When he returned, he spontaneously started playing the song 'Hallelujah', by Leonard Cohen, one of our friend's favourite songs, which ironically, we hadn't gotten around to in our singalong earlier. I started singing and others joined in.
Somewhere after the first verse and chorus, our friend closed his eyes and peacefully drifted off. Somehow, we made it through all four verses and choruses and then we all let our tears flow. I'm still not sure how everyone in the room feels about MAID but we all agreed that our friend made the right decision for him, and that he left this life surrounded by the two things most important to him…the people he loved and music. I think he would have liked this song, especially because it includes the accordion!

 /music-store-the-stories-behind-the-songs