- Posted by Dwight
In 2013, we started a music show called 'Where Have All the Folk Songs Gone'. We've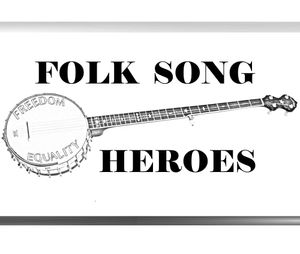 always loved the music from the 1960s Folk Revival period and it appeared that many others did as well. We decided, in the spirit of Pete Seeger, to make it a singalong show. We learned quickly that audiences did not require much prodding to join in. 
The show was also a real music education for us. I had a basic familiarity of the era's artists from Winnipeg's Top 40 radio format of the time. The show allowed us to go deeper both into our knowledge of the music and also of the singers who made it happen. Imagine if there was a song that told the whole story. 
Fast forward to 2020 and our Wednesday evening 'Livingroom Live' online shows. These shows have been a real treat for us and in addition to our existing followers, we've gained many new ones from around the world.
Well, one day we were approached by one of our new musical friends, Rick Ross, a Toronto songwriter. Rick had written some great lyrics called 'Folk Song Heroes' and it was all there, the whole Folk Revival story. He asked if we might be interested in writing the music for it. Given the topic, I immediately elbowed my way in. 
Now, I have a very solitary approach to songwriting and have never co-written with anyone (even Sue) so this was a new journey for me. The lyrics gave me a real good bead on what I thought would be the right musical treatment. The melody had to sound like something like Pete would sing, it had to be singalongable, and the arrangement had to sound vintage folk revival, the more like 'This Land' the better. 
The melody came together quickly behind a basic 3 chord folk structure in G. The lyrics mostly fit in with only a few tweaks. For the recording, I decided to go bassless and be inventive with the guitars. With a basic 6 string as the core, I capo'd my 12 string up 7 frets to create an auto harp sound a la Sylvia Fricker. I then thought of our late friend Sid Dolgay of the Travellers and his gritty mandocello and detuned my trusty 12 string by a half tone. I think I came close. Sue and I then added a classic 'Sue and Dwight' vocal. 
With the recording all done, I excitedly shared the song with Rick who gave it the thumbs up. Sue & I then debuted it on our weekly Livingroom Live show on November 11, 2020. Now its here for your listening and singing pleasure!